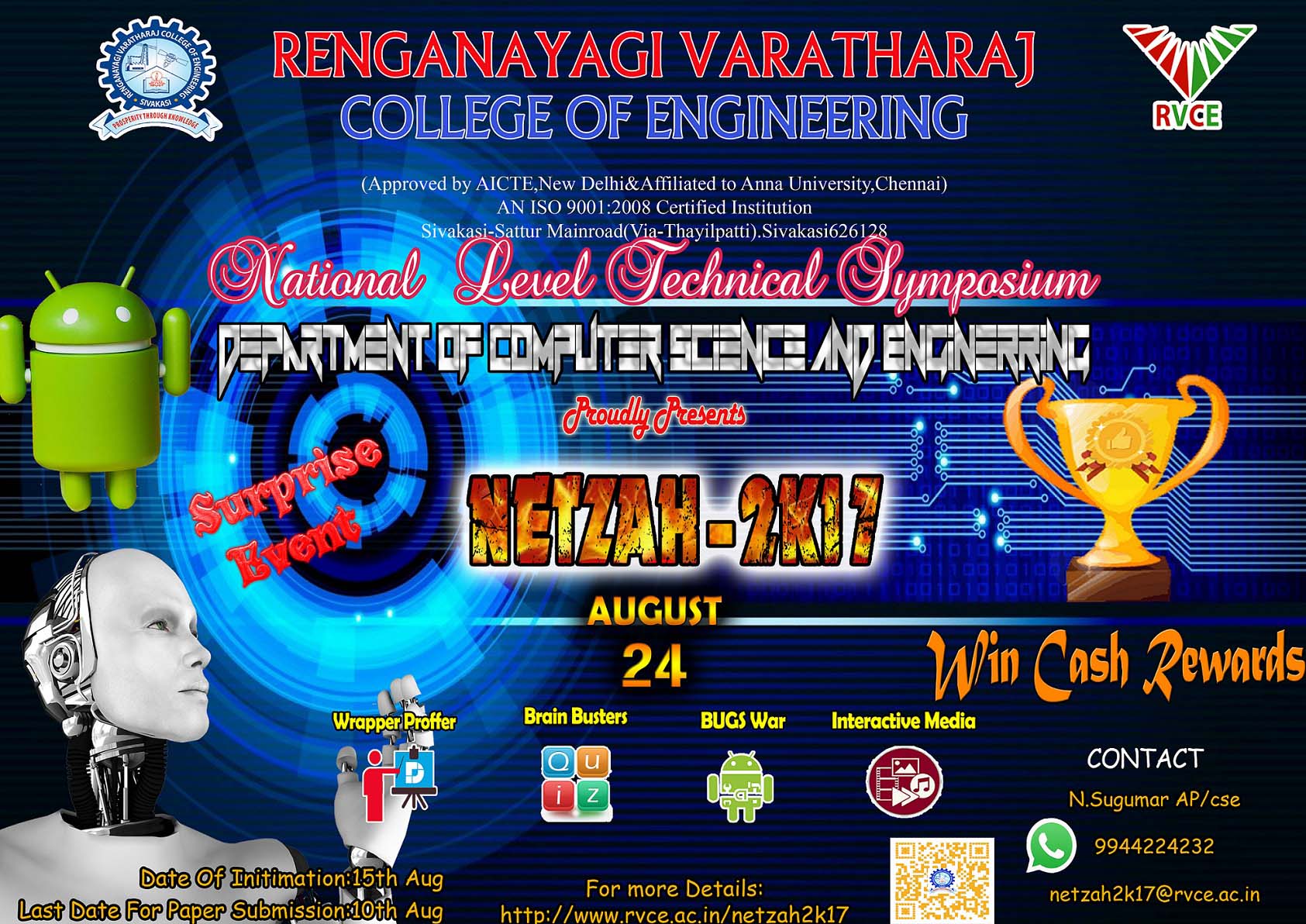 National Level Technical Symposium NETZAH2K17
This symposium will be a platform to exhibit the talent and skills of the aspirant engineers both in technical and non-technical base. This will leads to explore the generic ideas among student communities and to inspire the developing engineers with better exposure. The NETZAH'17 is intended to stimulate the talents and encourage innovative creativity of our engineers to exhibit themselves.
Event Details
PAPER PRESENTATION
Topics
• Big Data
• Internet of Things
• Cloud
• Android
• Network Security
• Wireless Sensor Networks
• Recent trends in IT
• Papers from other areas are also allowed.
Mode of Submission:
Two authors per paper will be permitted.
Papers must be in IEEE format.
One soft copy with abstract should be sent on or before 14th Aug 2017.
The time duration allotted per paper is 8 mins for presentation and 2 mins for queries.
Selected candidate should bring one soft copy, two hard copies and power-point presentation.
DEBUGGING
Individual participant
Platforms -C,C++
Rounds-Prelims & Final
QUIZ
Maximum 2 members
Rounds-Prelims & Final
MULTIMEDIA
Individual participant
Rounds- Final(Time duration-1 hr )
Software will be provided
(Photoshop, Flash, Moviemaker)
RULES
• Send your Registration Form to netzah2k17@rvce.ac.in on or before 14.8.2017
• Registration Form available in our website.
• Participants must bring their ID card.
• Students should come in formal dress code.
NOTE
Food and Snacks will be provided
Participants can utilize our Transport facility.
For further details contact: 994422423
Registration fee: Rs 100.
Staff Coordinators
Mr. N. Sugumar AP/CSE
Ms. S. Vidhya AP/CSE
Ms. K. Divyalakshmi AP/CSE
Student Coordinators
Mr. R. Venkatesh IV/CSE
Ms. M. Mahesh Prabha IV/CSE